Dentistry for the entire family.
At Great Divide Dental in Helena, Montana, we believe that dental care is an important part of optimal health. We will always strive to offer you the highest quality of dental care while incorporating the latest materials, techniques, and technologies as your Helena, MT dentist. Ultimately we want you to leave our Helena, MT dentist office with the feeling that our office cares deeply about your dental health and will always strive to give you the best, most comfortable dental experience possible.
REQUEST AN APPOINTMENT
Whether you are a new or returning patient, it is quick and easy to request an appointment online. If this is your first appointment at our Helena family dental, download and complete new patient paperwork prior to your visit.
Request An Appointment Now
New Patient Paperwork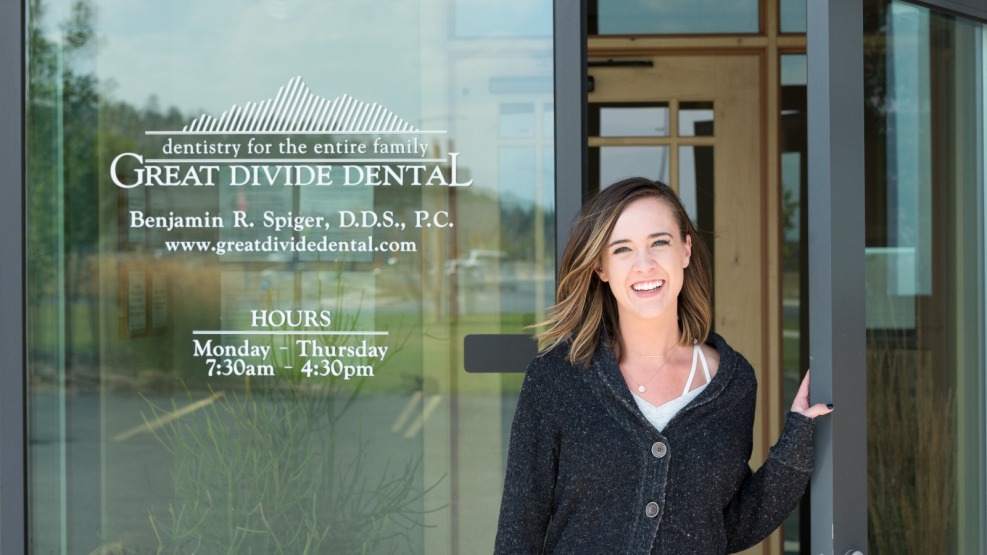 GREAT DIVIDE DENTAL INVITES YOU TO OUR OFFICE
At our Helena, MT dentist office, we believe that your Helena dental care should begin in a comfortable environment with an attentive staff who listens to your concerns and ensures you are a participant in your dental health choices. Our office has modern technology, safe digital x-rays, dedicated spaces for confidential conversations, and is easy to find, with close parking to make navigation to our office accessible and comfortable.
We are sensitive to any financial situation and our staff is familiar with all major insurance providers, so we make it easy to understand upfront what your responsibilities and copay will be before you leave. We strive to always provide a comfortable, compassionate, and expert level of care that will make you proud to recommend Great Divide Dental as your Helena family dentist.
Our Customers Love Us
4.9/5 Stars on Google
" Dr. Spiger and his staff are friendly and professional. He doesn't rush through a procedure. He takes time to make sure you get the proper numbing medication and seems very thorough. I trust him and would recommended his practice."
Kiki Turner
Recommended on Facebook
"My whole family enjoys going here. My husband and I like the wholestaff and how quick but personal they are. Plus, Dr. Spiger remembers things I tell them even six month later. My 5 year old daughters have been going since they were 2. Everytime they get excited to go get their teeth cleaned, talk to the "teeth cleaning ladies" get a prize and new toothbrush. I love that they want to go it makes my life so much easier. I highly recommend them!!!"
Debbie McNay
Read All Reviews