Dentistry for the entire family.
At Great Divide Dental in Helena Montana, we believe that dental care is an important part of optimal health. We will always strive to offer you the highest quality of dental care while incorporating the latest materials, techniques, and technologies as your Helena MT dentist. Ultimately we want you to leave our Helena MT dentist office with the feeling that our office cares deeply about your dental health and will always strive to give you the best most comfortable dental experience possible.
REQUEST AN APPOINTMENT
Whether you are a new or returning patient, it is quick and easy to request an appointment online. If this is your first appointment at our Helena family dental, download and complete new patient paperwork prior to your visit.
Request An Appointment Now
New Patient Paperwork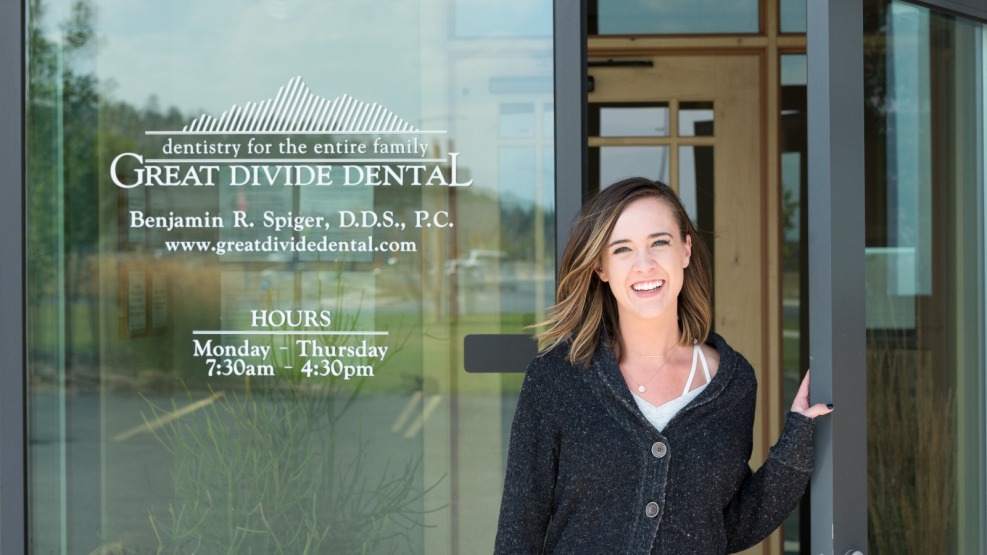 GREAT DIVIDE DENTAL INVITES YOU TO OUR OFFICE
At our Helena MT dentist office, we believe that your Helena dental care should begin in a comfortable environment with an attentive staff who listens to your concerns and ensures you are a participant in your dental health choices. Our office offers modern technology, safe digital x-rays, dedicated spaces for confidential conversations, and is easy to find, with close parking to make navigation to our office accessible and comfortable.
We are sensitive to any financial situation and our staff is familiar with all major insurance providers, so we make it easy to understand upfront what your responsibilities and copay will be before you leave. We strive to always provide a comfortable, compassionate, and expert level of care that will make you proud to recommend Great Divide Dental as your Helena family dentist.
Our Customers Love Us
4.9/5 Stars on Google
" Just had A great appointment at Great divide dental. They are very professional and understanding. Staff work extra hard to make sure that I am comfortable and knowledgeable about what is going on. Dr. Spiger is an excellent dentist and I would recommend him to anyone."
Nina Herrera
Recommended on Facebook
"My whole family enjoys going here. My husband and I like the wholestaff and how quick but personal they are. Plus, Dr. Spiger remembers things I tell them even six month later. My 5 year old daughters have been going since they were 2. Everytime they get excited to go get their teeth cleaned, talk to the "teeth cleaning ladies" get a prize and new toothbrush. I love that they want to go it makes my life so much easier. I highly recommend them!!!"
Debbie McNay
Read All Reviews
Pandemic Times
I hope this note finds you and your family safe and healthy. As we all learn to exist in these rapidly changing times, we are happy to report, that we are in the office to help you maintain ideal oral health. Not only are we striving as always to give you a comfortable safe place to have outstanding dental care we are also striving to be a leader in how to serve our community and our patients safely in these uncertain times. So, in addition to what we have always done to keep our office immaculate and sterile we are adding additional steps to keep you safe. Our newest step is to install a central advanced air scrubbing technology in out heating and cooling systems. This technology kills bacteria and virus in the air and on surfaces passively. For more about this technology you can visit
Aerus
. I am also excited that the vaccine is widely available. We are happy to discuss the vaccines with you. I personally was vaccinated.
Additionally we ask that you maintain social distance and wear a mask while in our building (per local and CDC guidelines in areas of high spread). We would also ask that you limit the number of people coming to an appointment to the person with the appointment and one caregiver. We would also appreciate that all people in the same family group proceed to the treatment room with the patient and don't remain in the waiting room. You will notice other changes as well. Rest assured that we will stay on top of recommendations as they change and make sure we offer a safe and comfortable environment. Thank you for your support and patience as we all navigate these times. See you soon. Dr Spiger